Gay Guide to Vietnam – Applying for a Vietnam Visa.
If you are reading this article, it means that you are planning or thinking of visiting our country. That's just awesome!!! Vietnam is a peaceful and gay-friendly country that will make you feel welcome like home. Let's see what you need to know when applying for a Vietnam Visa.
(I).

Vietnam Visa Exemption

(Visa free)
For Vietnam Visa, it depends on where you are from and how long you want to stay that will decide if you need a visa to enter the country or not. From January 1st, 2019, passport-holders of countries listed below, DO NOT need a visa when visiting Vietnam. The exemption varies from 14 to 90 days, depending on the country you are coming from, however.
MAXIMUM DAYS
NATIONS

Less than

90 days
CHILE

Less than

30 days

INDONESIA
CAMBODIA
KYRGYZSTAN
LAOS
MALAYSIA
SINGAPORE
THAILAND
Less than 21 days
PHILIPPINES
Less than 14 days
BRUNEI
MYANMAR

Less than

15 days

BELARUS
DENMARK
FINLAND
FRANCE
GERMANY
ITALY
JAPAN
NORWAY
RUSSIA
SOUTH KOREA
SPAIN
SWEDEN
UNITED KINGDOM
Foreign passports are exempt from visa requirements to Phu Quoc island for no longer than 30 days. If they transit through other international airports in Vietnam before arriving Phu Quoc, they are still eligible for the exemption.
(II).

Gay Guide to Vietnam – Vietnam E – Visa

(online application)
Since 2017, travelers to Vietnam have put their mind at ease when the e-visa program appeared as the best options for those who want a 30-day single-entry to the country.
Applying for a Vietnam e-visa is an easy job that can be done entirely online. It costs USD25 and takes only 3 working days. However, Vietnam e-visa application process is not available everywhere in the world. There is a list of countries that have access to this e-visa online application. You can check this list of countries available for Vietnam e-visa, at the link below to see if you can apply for an e-visa to Vietnam, from your country.
https://evisa.xuatnhapcanh.gov.vn/documents/20181/117155/Vietnam-Evisa-nation-list.pdf/21e0f88f-d8a0-48b8-bfdb-a0f82b0853e2
If Vietnam e-visa is available in your country, here is everything you need to prepare for the application:
(1) Your passport with at least six months' validity (According to Vietnam Law, the visa expiry date must be at least 30 days before the passport expiry date. Therefore, an e-Visa expiry date must also be at least 30 days before the passport expiry date)
(2) A clear photo of your full passport data page (.jpg format)
(3) A Portrait photo of yourself. 4x6cm. Looking straight and without glasses (.jpg format)
(4) A valid international credit or debit card for payment
(5) A temporary address within Vietnam (can be your hotel or home-stay address)
(6) Your entry and exit dates and entry and exit points/airports
After you have all those things ready in hands, we can get started to apply for it at this link: https://evisa.xuatnhapcanh.gov.vn/web/guest/trang-chu-ttdt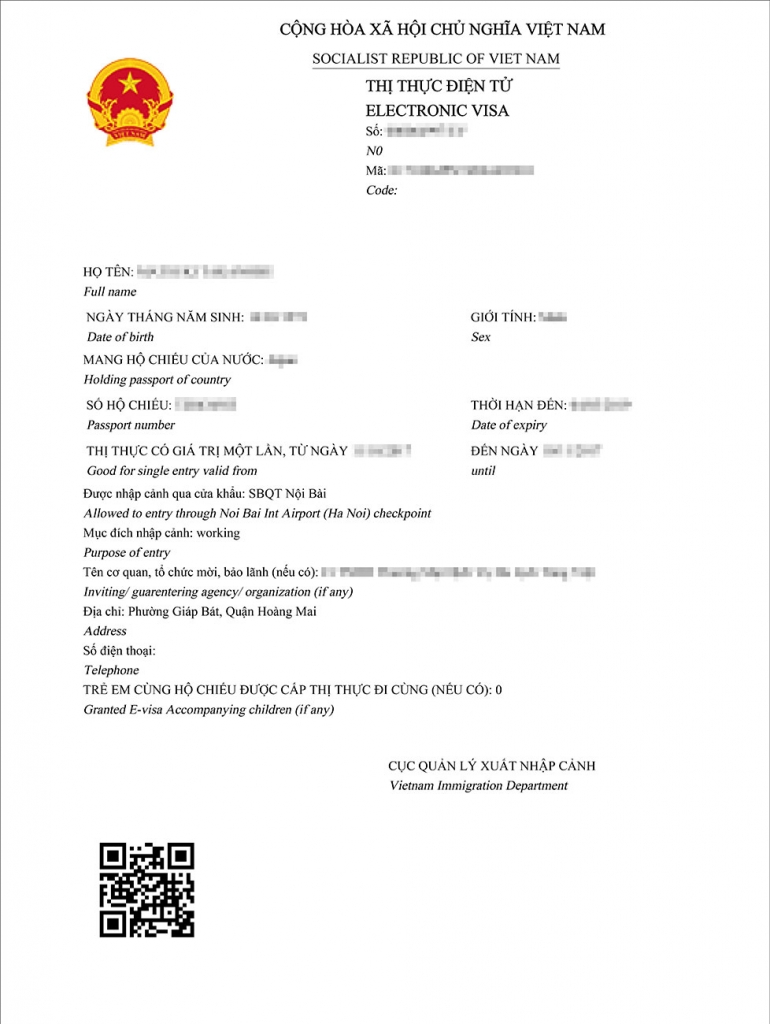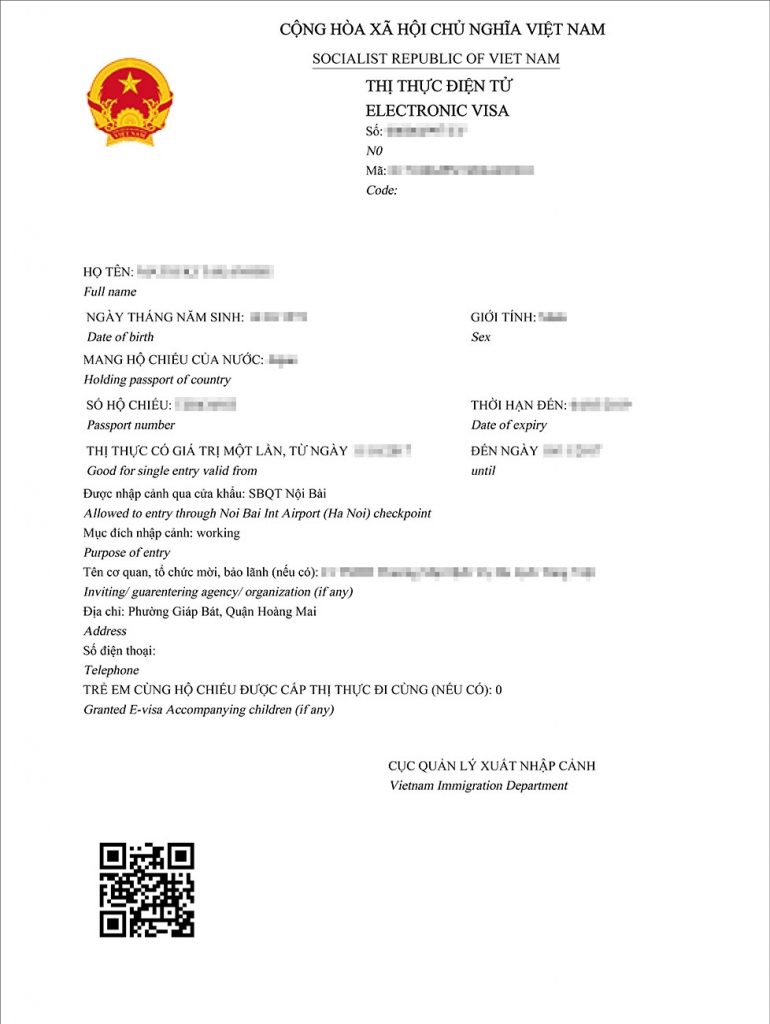 (III).

Visa on Arrival
If E – Visa is not available in your country, Visa on arrival is the next convenient way to get a Vietnam visa. You can get a 3-month visa or 30-day visa and it is available for multiple entry or single entry to the country.
You should get a visa on arrival if you are:
– Visiting as a tourist
– Arriving by air
– Staying up to 90 days
– Needing either single entry or multiple entry
What's the cost of a Vietnam visa on arrival?
– Approval letter: Around USD25 – USD60, depending on your agent and how rush you want it.
– Single entry visa (30 or 90 days): USD25
– Multiple entry visa (30 or 90 days): USD50
To apply for a Visa on Arrival, you need to find a good and reputable agent, who will provide an approval letter to your Visa on Arrival. The process of getting that approval letter is usually easy and taken care by the agent. Once you have that letter ready in hand, bring it and your passport (6 month validity and 2 blank pages) to the visa counter at the airport.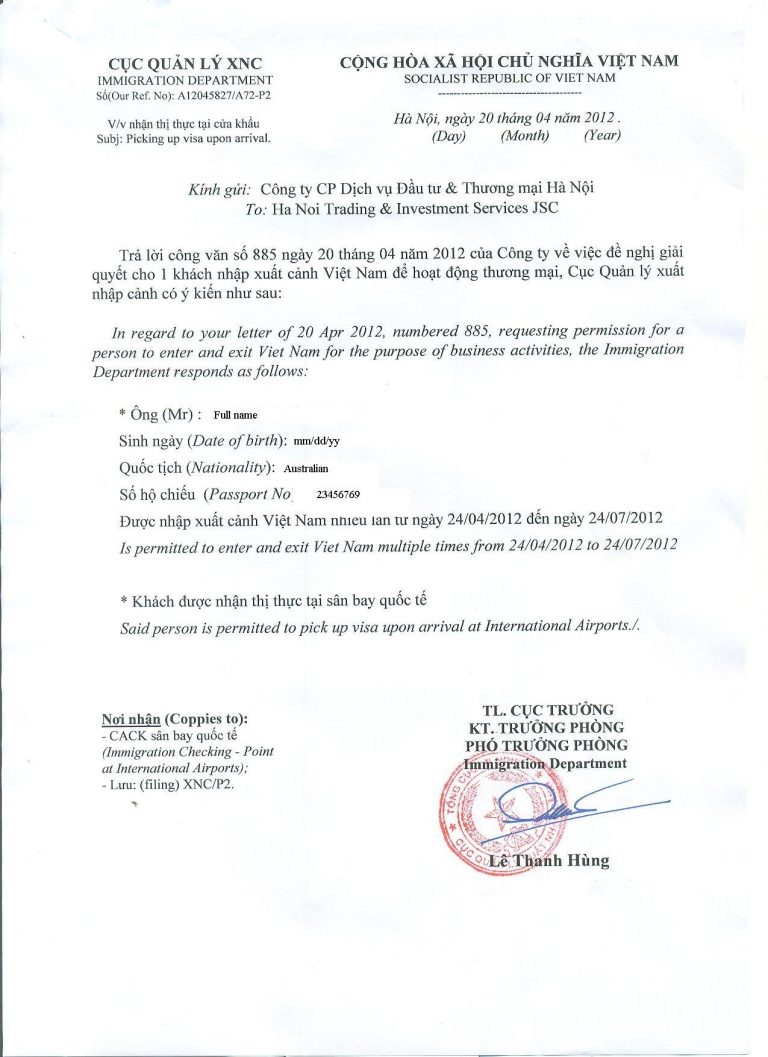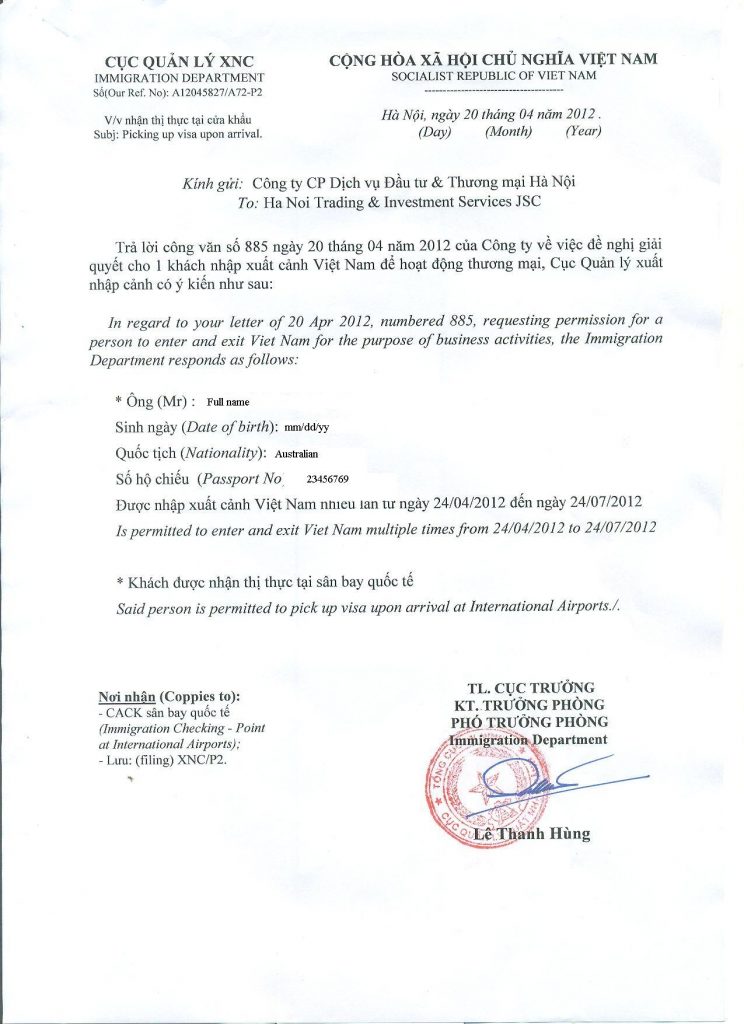 Please note that
– The approval letter is not a visa but you need it to get your visa stamp at the airport.
– Vietnam Visa on Arrival is currently available at only Vietnam airport. It is NOT available at border crossings or seaports. These are the 4 airports that accept Visa on Arrival: (1) Tan Son Nhat International Airport – Ho Chi Minh City. (2) Noi Bai International Airport – Hanoi. (3) Danang International Airport – Danang. (4) Cam Ranh International Airport – Nha Trang.
(III).

Visa issued by the Vietnam Embassy
This classic way is the least convenient and most time & money consuming for you to get a Vietnam visa. However, the Vietnam Embassy Visa will be of use for you if you want to work or volunteer in the country, if you need a multiple entry visa for land borders or if you want to stay longer than 90 days.
What you need to do is to look for a Vietnam Embassy in your hometown and go there to apply in person. The list of Vietnam Embassies around the world can be checked here https://embassy.goabroad.com/embassies-of/vietnam
If there is none available around you, please look for a reputable visa service around you or you can check the Embassy's website and follow their instructions for your country.
Pride Drives – Saigon Gay Tours