Gay Travel Guide to Vietnam Cambodia & Thailand
When it comes to travelling, one of the must-go places around the world is the Indochina. The word Indochina was used by early colonialists to refer to specific regions in Southeast Asia which includes Thailand, Myanmar, Vietnam, Peninsular Malaysia, Cambodia and Laos. The word is a combination of Indian and Chinese, referring to how these regions were heavily influenced by the Indian and Chinese civilization.
In the modern world, Indochina is a popular tourist destination spot where travelers often spend weeks or months gallivanting the entire region. This is the spot where one will experience unique blend of Asian cultures with distinctive palette of food and spices. Moreover, countries in Indochina boast as some of the cheapest traveling destinations in the world.
If you are a first-time backpacker wanting to explore the region, it can be very overwhelming to traverse the entire landmass. The dominant language in each country is very different but rest assured, the people in this region are some of the nicest people around the globe.
Another concern about travelling to a foreign land can be your sexuality. Most of the online articles out there only consider the perspectives of heterosexual travelers but it can be a very different experience for gay travelers. Indeed, some countries in the world still discriminate against LGBT members. It is disheartening to hear news online about gay travelers being mistreated when people just want to have some fun and sight-see the world. Nevertheless, this post will give you the best advice when exploring the Indochina region from the LGBT traveler perspective.
Firstly, to cover all the countries in Indochina will most likely take more than a year and even then, it wouldn't be enough. For the sake of simplicity for first time gay travelers, this article will look at the most popular traveling spot in Indochina. The countries are Vietnam, Cambodia and Thailand. Another reason why these countries are considered is because of their open-minded attitude toward LGBT culture. Vietnam is an Asian country that never has a law against LGBT members. Cambodians are more than welcoming towards LGBT travelers. As for Thailand, this country has TV dramas with gay-centric theme and gay characters.
This article will show you the best way to travel around these three countries whereby your time is utilized to the max. Of course, you have the liberty to adjust your own plans if there are certain cities or towns you want to drop by but for first timers who have no clue on the region, this article will help a lot. Furthermore, famous gay spots will be mentioned too throughout the post. Let's start this Gay Travel Guide to Vietnam Cambodia & Thailand.
Part A: THINGS YOU NEED TO KNOW BEFORE THE TRIP
Every great adventure starts from home. Before you jump into the next airplane to Asia, there are many things you need to consider about the countries that lie ahead as it can be vastly different from where you are staying.
1. What's the Weather Like and What Clothes Should You Bring?
Southeast Asia is a tropical region as the landmass is close to the equator. However, northern places like Chiang Mai in Thailand and Hanoi in Vietnam may experience some of the 4 seasons but not to the point of summer heat waves and snow respectively. You can expect the weather to be mostly hot, humid or rainy. Weather can always be checked here https://weather.com/
Thus, it is ideal to pack thinner clothes and lots of sunscreens when you are visiting the countries. However, do try to pack some knee length shorts or long pants as many religious sites in Indochina require visitors to cover up. That includes shirts. On normal days when you are on a beach or walking around the streets, singlets are perfectly fine but modesty should be respected at temples, churches or mosques.
2. Vietnam Visa Application
Visa can be a major headache when it comes to foreign countries. Some countries are strict and some are lax. It also depends on where you originate from. Considering Vietnam, Cambodia and Thailand, the visa application terms and conditions are very different.
Let's start with the easy one. Thailand has the laxest visa application between the other two countries. Almost every country can enter Thailand without a visa, so long as you travel around the country within 30 days. Only 19 countries require a visa to enter Thailand. Some of the countries include India, China, Mexico and Taiwan to name a few.
The next one is Cambodia. Visa can be obtained upon arrival at both of its international airports – Phnom Penh and Siem Reap International Airports. If you travel on the road to enter Cambodia, you can obtain it from the international check points at the borders. Another best tactic is to apply for a visa at your local Cambodian embassy to save yourselves the hassle.
Last but not least, the visa to enter Vietnam is the most complicated to obtain. There are a few countries that are exempted from visa application but even then, you can only travel within the country for a certain number of days. For instance, Malaysians can enter the country without a visa if the period of stay is less than 30 days. More than that, Malaysians have to apply for visa.
Meanwhile, for French and Chile citizens, if you are travelling in the country for less than 90 days, a visa is not required as long as you have an official passport. For US citizens, a visa is a must when entering the country. The best way to apply for a Vietnam visa if you are lazy searching for information, is to apply through a reputable agent around your neighborhood. Direct application to the embassy can save your money but will take more of your time. More information can be found at this link https://pridedrives.com/gay-guide-vietnam-visa/
Or, the easiest way to apply for Vietnamese visa is through online platform, known as e-visa. The video below will show you how to do it.
3. How Much Cash to Prepare?
The US currency is the universal money that can be used in all three countries. However, it is advised to change some of your US currency to the local ones at the airport or well-established money changers in shopping malls to avoid scams. That said, credit cards can also be used in major cities but mostly in Vietnam and Thailand. For Cambodia, it is advised to bring more cash as many places do not use credit cards. This applies to hamlets and smaller towns in Vietnam and Thailand.
4. Safety Awareness
It goes without saying that you should always be mindful of your belongings when you travel anywhere. Some parts of the three countries are quite poverty stricken and out of desperation, the locals may sometimes scam, steal or mug travelers. Always be cautious at dodgy places and check the prices before purchase anything. This video will suggest some tips you can use to protect yourself.
Part B: LET THE "GAY" ADVENTURE BEGIN
With all the previous things in mind, now you can start your adventure. The subsequent paragraphs will highlight the best itinerary to cover the entire three countries in the most sequential way while utilizing the time that your visa may impose.
The journey will begin in the capital city of Vietnam, Hanoi and you will travel down south to Ho Chi Minh City (HCMC). The next country will be Cambodia. The first destination in the new country is Phnom Penh which can be easily accessed from HCMC and you will finish Cambodia in Siem Reap, up north. Lastly, from Siem Reap, you can have the option to go to Chiang Mai in northern part of Thailand and move down south to Bangkok and end your trip there or you can go further down to Phuket or Krabi.
I.

Gay Travel Guide to Vietnam
The first stop in your Indochina adventure should be Vietnam. Vietnam covers the east coast of Indochina and it is known for its culture alongside some of its natural wonders such as limestone mountains and beautiful beaches. It is a long stretch of land which can be accessed via a train from the north to the south. With regards to its International Airports, Vietnam has two main entry points: Noi Bai International Airport in Hanoi and Tan Son Nhat International Airport in Ho Chi Minh City. There is almost no direct flights from U.S.A but it can be connected through many countries. For the current trip, it is ideal to land in Hanoi first and then make your way down south to Ho Chi Minh City.
1.

Gay Travel Guide to Vietnam 's Capital – Hanoi

 (5-6 days)
Hanoi is the capital city of Vietnam and how you are going to spend your first day there depends on your time of arrival. Firstly, it should be noted that it takes about an hour to travel from the airport to the city center of Hanoi. Thus, if you arrive in the morning or early afternoon, you still have a chance to venture around downtown Hanoi but if you arrive late in the evening, the most you can do is to try out some of the local food at the restaurants that are still open.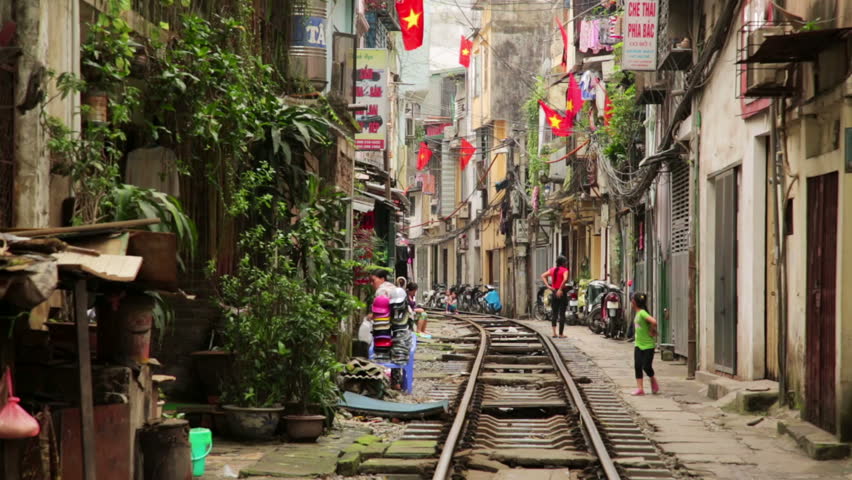 Assuming you arrive in the day, do travel to Old Quarter in Hanoi where you can find many affordable hotels. When it comes to LGBT friendliness, all hotels in Hanoi are more than welcoming to queer folks. If you have a bit of money to spare, you can try out Hanoi La Siesta Trendy which offers wide hotel room space and strategically centered in the touristy part of the city. Otherwise, any hotel will do.
So, how do you start your first day in the new country? Just stroll around the city would be a good start. Hanoi is a big city and it would take at least two days or more to truly explore every inch of the urban area. Old Quarter is an area that exists since ancient times for trading purposes. Now, it is lined up with chic cafes, restaurants and souvenir shop that you can take your sweet time looking through. South of Old Quarter lies the iconic landmark of Hanoi. The Sword Lake has a legendary origin involving a king, a sword and a turtle. There is a temple at the Northeast side of the lake dedicated to this turtle. It is called Ngoc Son Temple. The lake itself can take 30 minutes to an hour to explore. It is a good relaxing activity to watch the locals carry out their activities especially in early morning and late afternoon.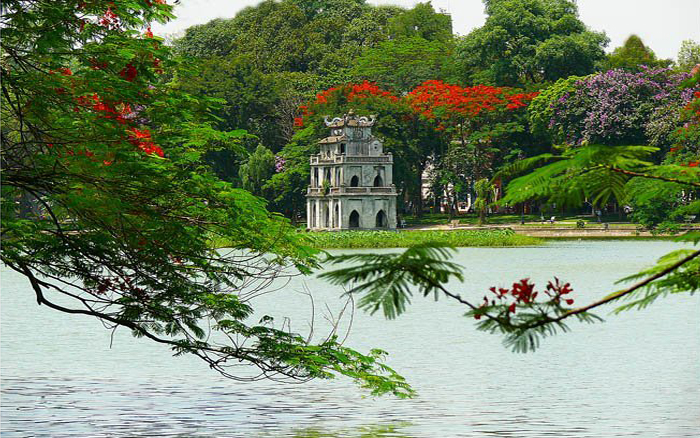 In the southeast side of the lake is the French Quarter where many of the French colonial buildings have been renovated. It is considered as the upper-class side of Hanoi. The architecture here alone should pique the interest of those would like history and building designs.
For those of you who want to witness the main ma, Ho Chi Minh who liberated Vietnam, there is a mausoleum dedicated to him in the northwest side of the city. Walking there can be an arduous task so taking the bus or a taxi would be ideal.
It should also worth mentioning for those who want to experience culture to try out the water puppet show which is near the Ngoc Son Temple. There are several time slots for the show but it is always good to book in advance. It is impossible to understand the story unless you speak some Vietnamese. Nonetheless, it is an entertaining experience in a nice air-conditioned room (Hanoi's weather can be scorching hot, especially between May to August).
All that walking is definitely tiring. As a gay traveler, you can drop by a gay friendly spa or massage parlors in between your stroll around the city. Our recommendation is Tori Hair & Spa which is near the Sword Lake. At night, you can mingle with the local LGBT members at Golden Cock Bar which is just west of the Sword Lake. The lake is a good bearing to navigate your way.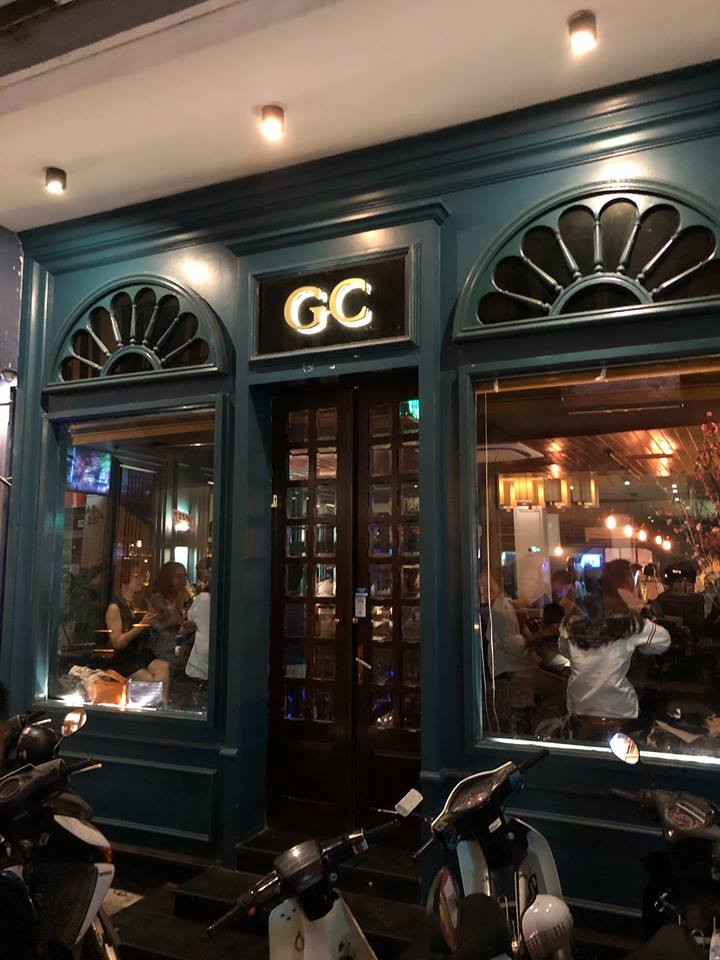 In all honesty, Hanoi itself does not require many days to explore. It is an important hub for several other tourist destination. To the northwest of the city, there is Sapa, a cool highland place with terraced rice paddy field, similar to the iconic ones in Indonesia. The air is cooling and fresh and this can be a good getaway from the bustling city. To the east of the city, there is Ha Long Bay, the famous natural wonders of Vietnam where patches of sea are speckled with high rising limestone mountain. Both places are hours away from Hanoi. Hence, it is advised to stay at least one night in each location. Sapa is almost 8 hours from Hanoi by train where as Ha Long Bay is shorter which is around 3 hours but Ha Long Bay can be slightly expensive when it comes to accommodation, especially if you want to experience it on a cruise boat.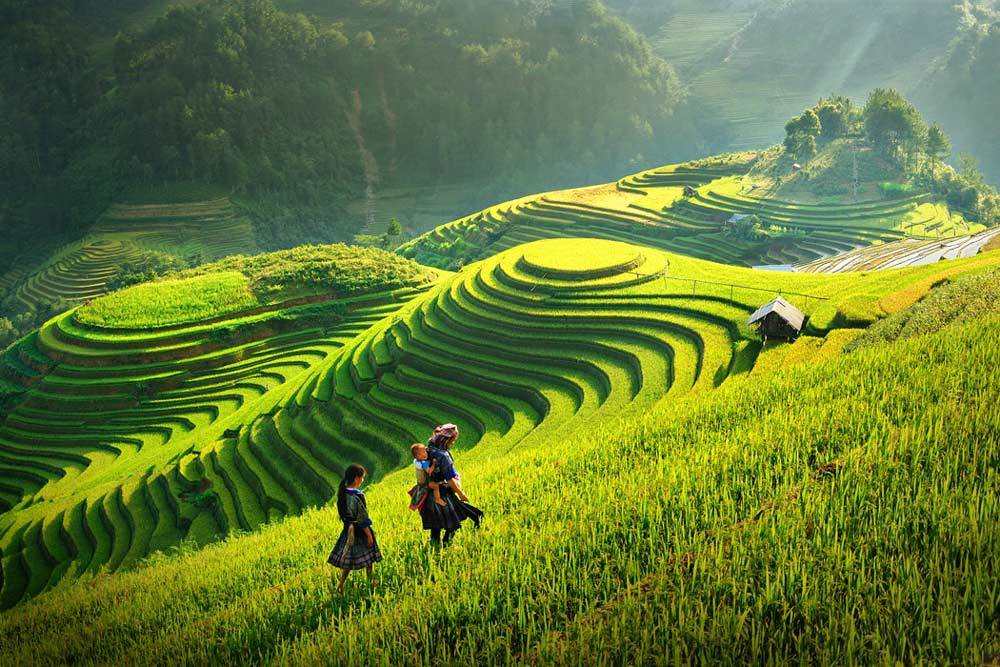 Ideally, it would be better to explore as much as possible but due to time constraint, you might have to choose one place over the other. If that's the case, don't be upset as there are many other destinations to venture down south.
2.

Northern Vietnam – Ninh Binh

(2 day)
There are several spots throughout Vietnam where one can travel too. After you are done with your stay in Hanoi, take a train (Vietnam Railways) to Ninh Binh. You may purchase the tickets at the train station itself but it's good to book a day before the ride, just to check on availability. From Hanoi to Ninh Binh, it will take about two hours to reach. The special thing about Ninh Binh is that the region around it is known as Ha Long Bay on land.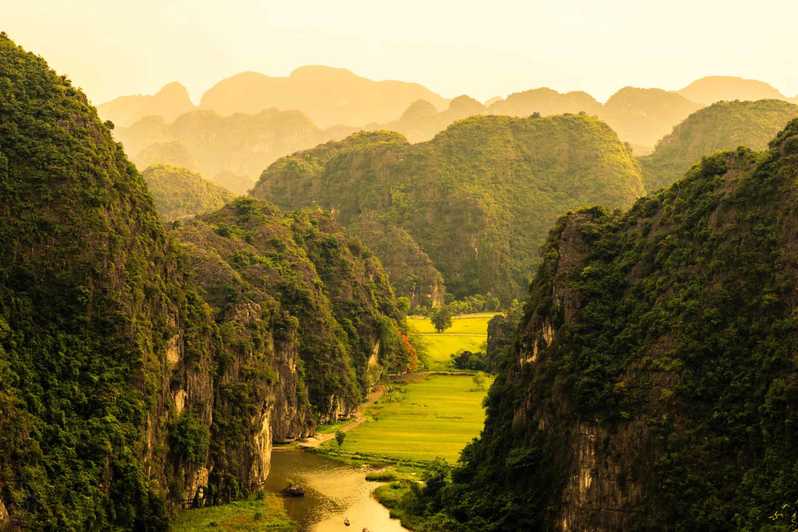 There is nothing much to do around the town itself but there's a lot of natural sceneries in Ninh Binh. The most common tourist package is taking a boat ride down Tam Coc or Trang An and climb up Hang Mua. Both areas will offer the Ha Long Bay vibe as you observe the expanse of limestone mountains stretches out into the horizon. The only downside is that there is no known gay scene in the town.
3.

Central Vietnam – Hue

(2 days)
Further south from Ninh Binh is the ancient city, Hue. This is the former capital of the Nguyen Dynasty. You can try out the Forever Young Hostel which is extremely gay friendly during your stay in this city. Hue is known for its sightseeing places along the Perfume River which you can definitely cover within a day. Many ancient pagodas and citadels line up the riverbank of Perfume River. At night, don't forget to drop by Victory Bar where all the gay locals visit to mingle.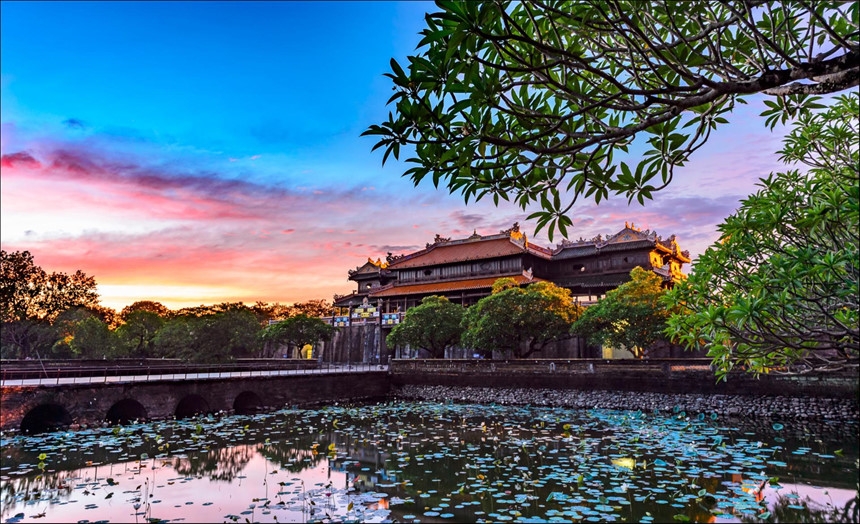 4.

Central Vietnam – Da Nang & Hoi An

(3 days)
Within a 3-hour car ride from Hue, you will reach Da Nang. Da Nang on its own has nothing much to do except for the beautiful seashore where you can relax. For accommodation, it is highly recommended to stay in Hoi An instead which is about 30 minutes to 45 minutes drive from Da Nang. You can still easily access the beach from Hoi An.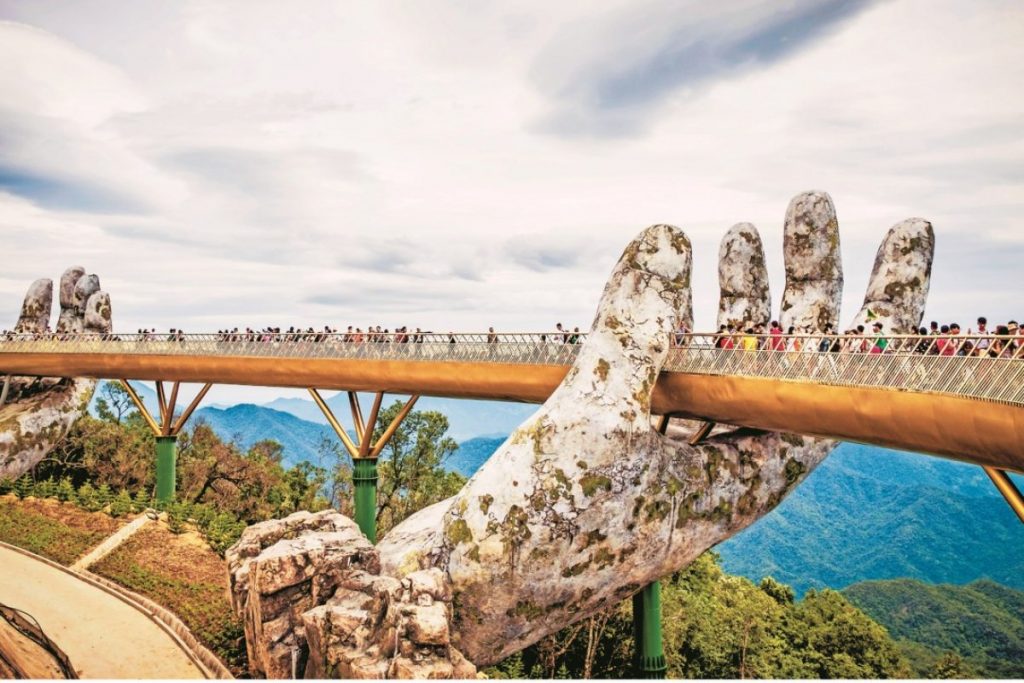 The reason is that Hoi An has a more vintage cultural vibe where you can spend the morning absorbing the uniqueness of the surrounding and spend the late afternoon by the beach. At night, you can come back to Hoi An to enjoy the festivity that the town has to offer with all the other tourists.
Two LGBT friendly restaurants that you should try out while in town are WOOP WOOP Bar & Food as well as Am-Vegetarian Restaurant. It is enough to satisfy your palette for the evening.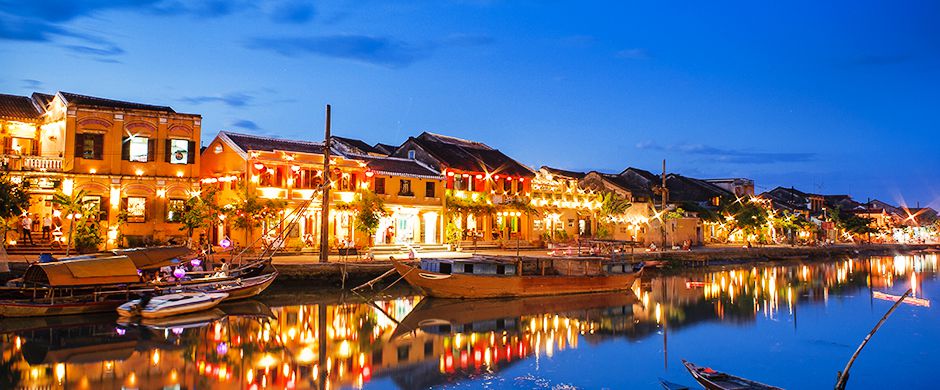 If you have time, do take a tour package to the nearby Ba Na Hills and the ancient ruins My Son.
5.

Central Vietnam – Nha Trang

(1 to 2 days)
If you didn't get the chance to chill by the beach in Da Nang, there is always Nha Trang to look forward to. This destination is considered by many Vietnamese to be the ideal beach holiday in Vietnam. There are many resorts here and there is theme park too. A more cultural experience would include an ancient Cham temple called Ponagar Tower. Otherwise, this place is the ideal place to relax.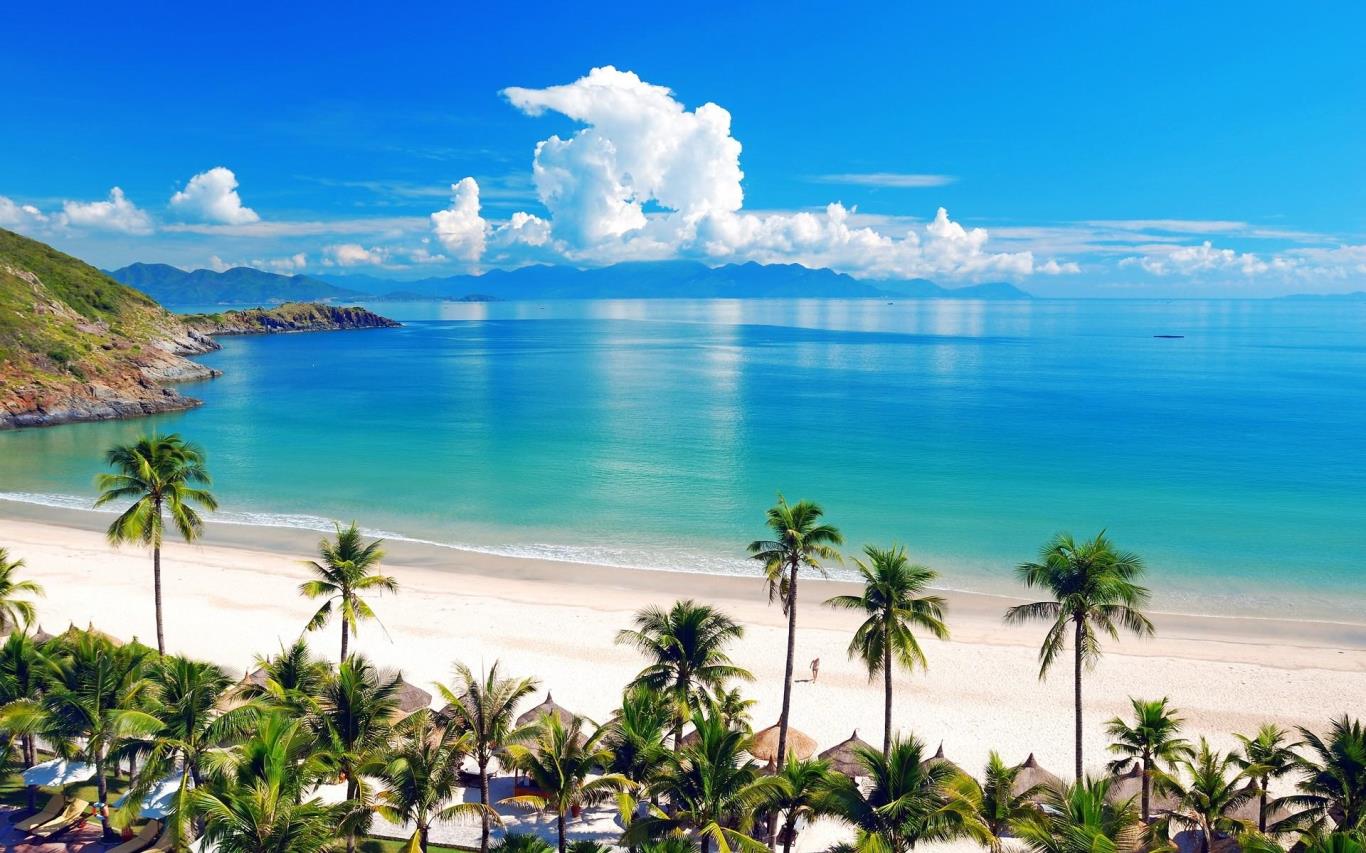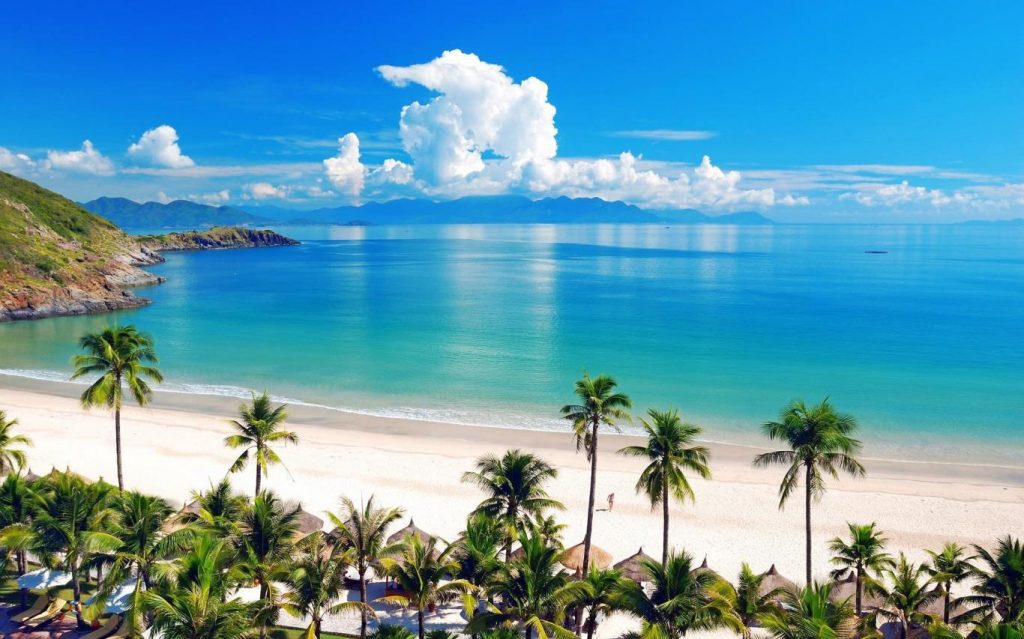 Thus, if you are not the beach sort of person, you can just touch and go from this location. It is worth going to their gay clubs which consist of Beachside Bliss Bar, Sailing Club Nha Trang and Z Club. This should be a good resting period before moving on to your final destination in the hustle and bustle city that is Ho Chi Minh City.
6.

Gay Travel Guide to Vietnam 's Biggest City – Ho Chi Minh City a.k.a Saigon

 (3 to 4 days)
Entering south Vietnam, there is only one place that any visitor must go which is Ho Chi Minh City. As it is a mouth full, the city often times goes by its pre-war name, Saigon. The city is dense and chucked full of activities to do. From cultural experiences to having fun, you name it. However, do note that some of these activities are out of town.
Firstly, within the city itself, you can explore the common tourist spots which include Notre-Dame Cathedral of Saigon, Saigon Central Post Office, Ben Thanh Market, Independence Palace and Backpacker Street. Most of the locations on the list are historical places with unique architecture that surely would pique the interest of any traveler who has never been to such country. You can see the mixture of European and local influence on the building designs as well as food. For instance, Vietnamese people adopted the French baguette and made their own version of it with the same hard texture but softer bread inside. Even though Hanoi is the capital city of the country, Saigon is much denser in comparison.
With all the cultural and historical sightseeing to do in the city, it can take up two days of your time if you are thorough. Ah, and don't forget about a very important part of this city – FOOD. During these days, at night, there are many gay bars and saunas to pay a visit to. If you desire a local flavor, you can try out Lesbian Banh Mi whereas for spas to relax your tiring body, you can try out De.Soi9 Sauna.
One of the better ways of travelling around Saigon is through motorbike tours. Pride Drives is a highly recommended tour agency for gay travelers, whereby you and your partner can book motorbike tours with trusted drivers. The drivers will take you to all the best spots for both food and sightseeing around the city on their tours. If you have your own agenda, you can book a private custom tour and direct them where to go.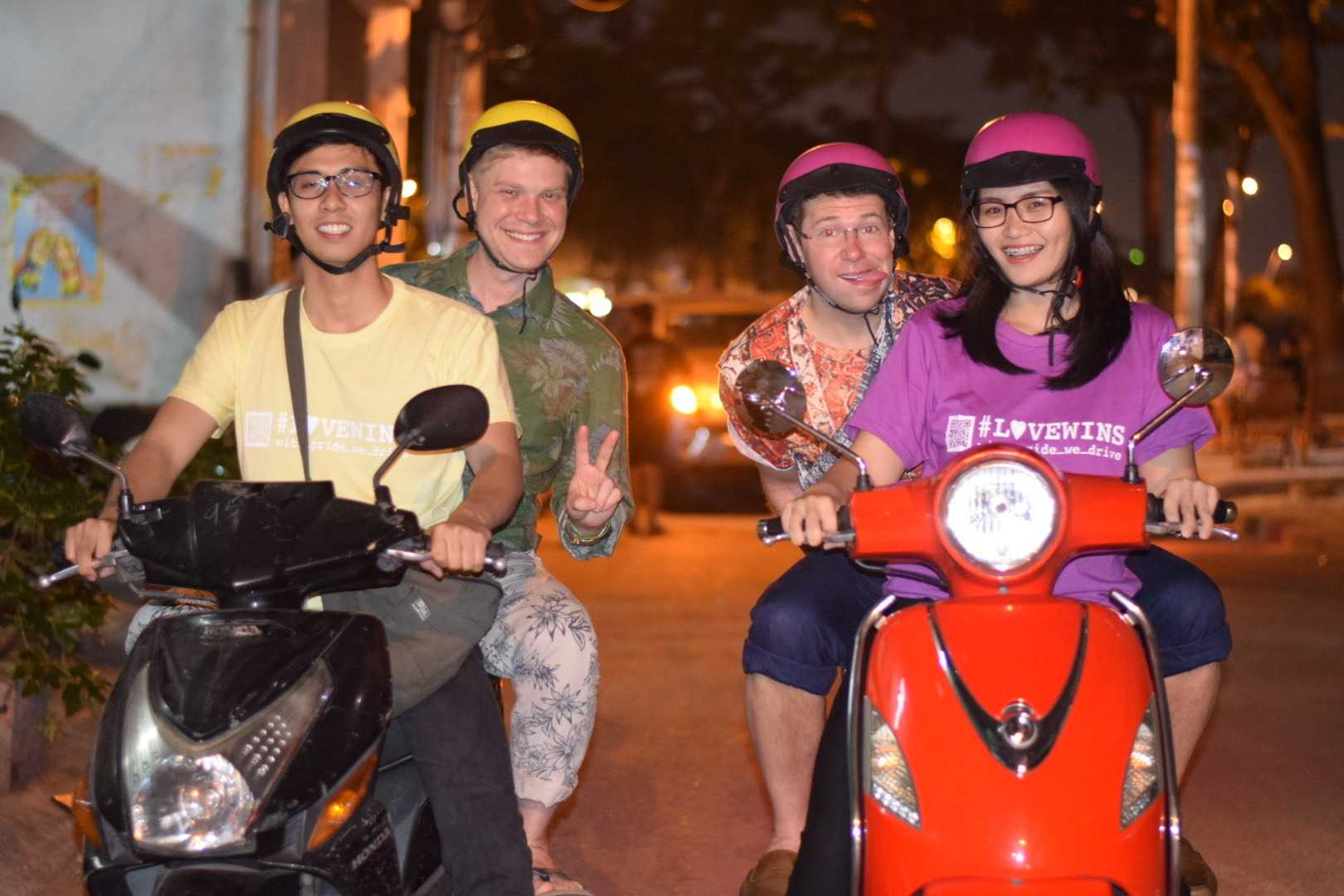 After you are done with the city, time to explore the surrounding around Saigon. One of the highly recommended spots is Cu Chi Tunnel. Here, you can experience how the Vietnamese soldiers hide and fight underground during the Vietnam War. The tunnels are extremely claustrophobic with dry twigs on the floor. It is impossible to stand upright while inside. You have to crouch or crawl at certain places.
Not far from here, you can visit the Mekong Delta where a boat tour will take you around the Mekong River. There is a candy factory that showcase how they make the local sweets as well as a traditional boat ride on the smaller rivulet. At the end of the tour, there is a restaurant for you to try out the local seafood and one of the best dishes on the menu is a fried fish displayed on stilts.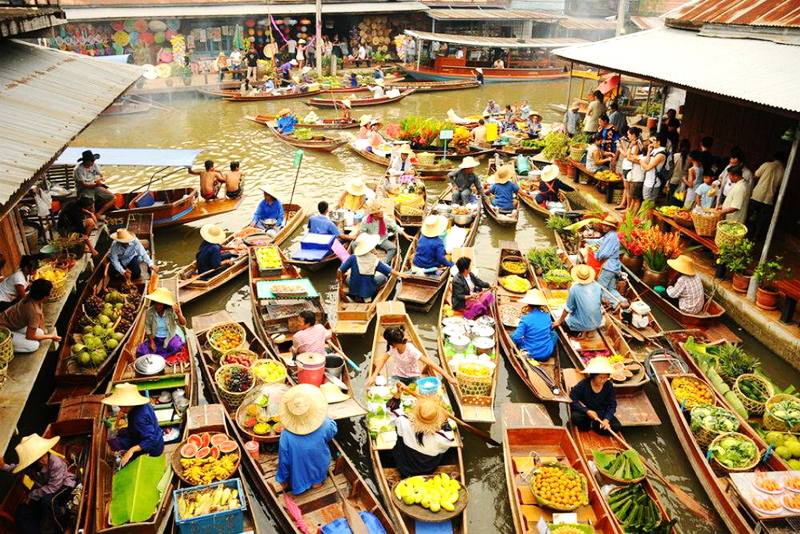 Unlike Hanoi, all the main tourist destinations are relatively nearer to each other. That is why you can easily cover the main spots in Saigon within 4 days. Of course, you are free to explore longer if you want on the nearby villages or less-known attractions.
II.

Gay Guide to Cambodia
Considering all the exploration and travelling time around Vietnam, you should be able to finish it within 20 days. The next country on the list is Cambodia. Even though there is a law against homosexuality, Cambodians are pretty lax about gay travelers. Some government bodies even support having more gay travelers coming over to the country. The two most well-known cities in the country are Phnom Penh and Siem Reap with Phnom Penh as the capital city. It is possible to fly to Phnom Penh via airplane but where's the fun in that. Buses are the most common way to travel and it is much cheaper compared to flight.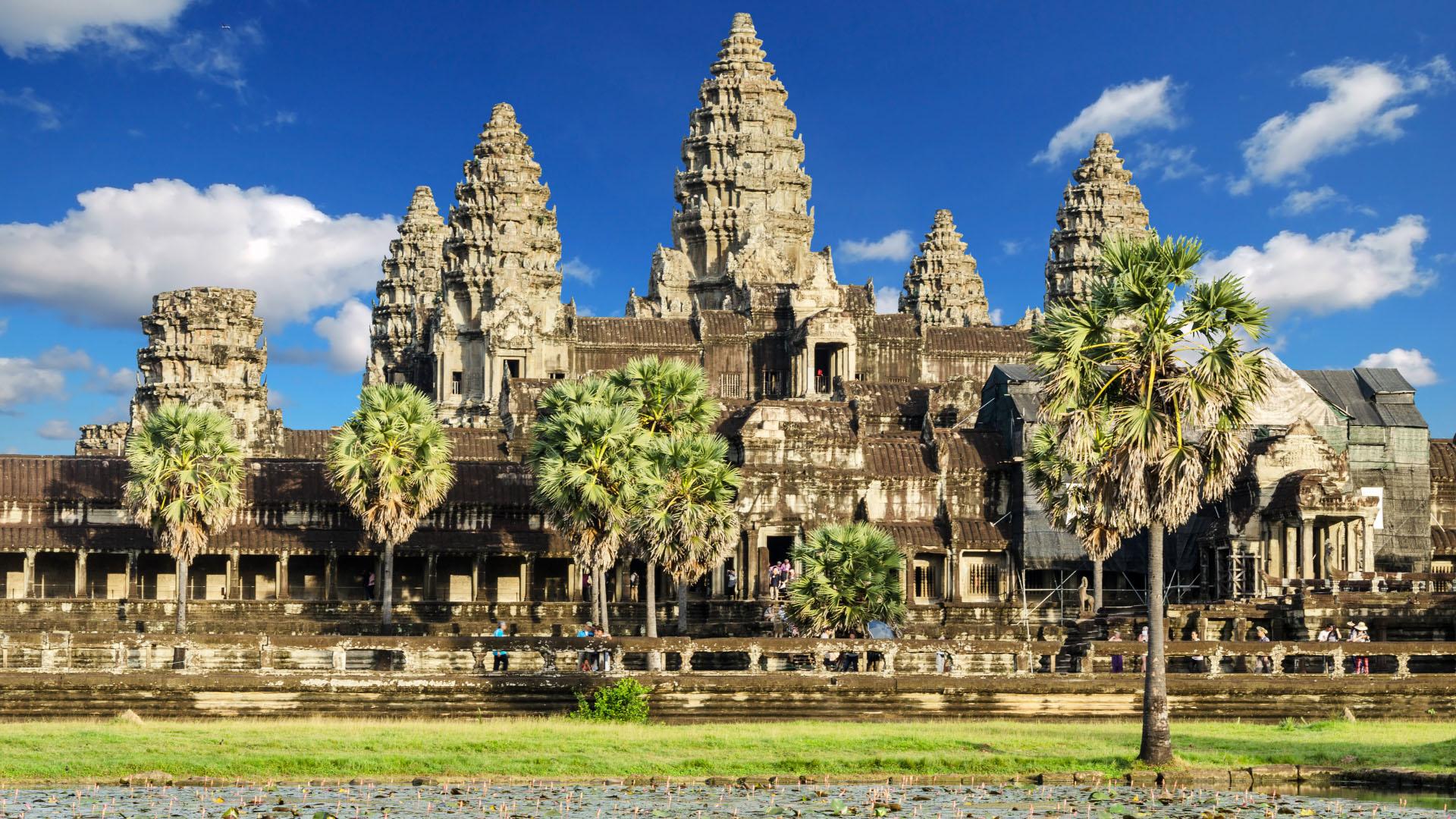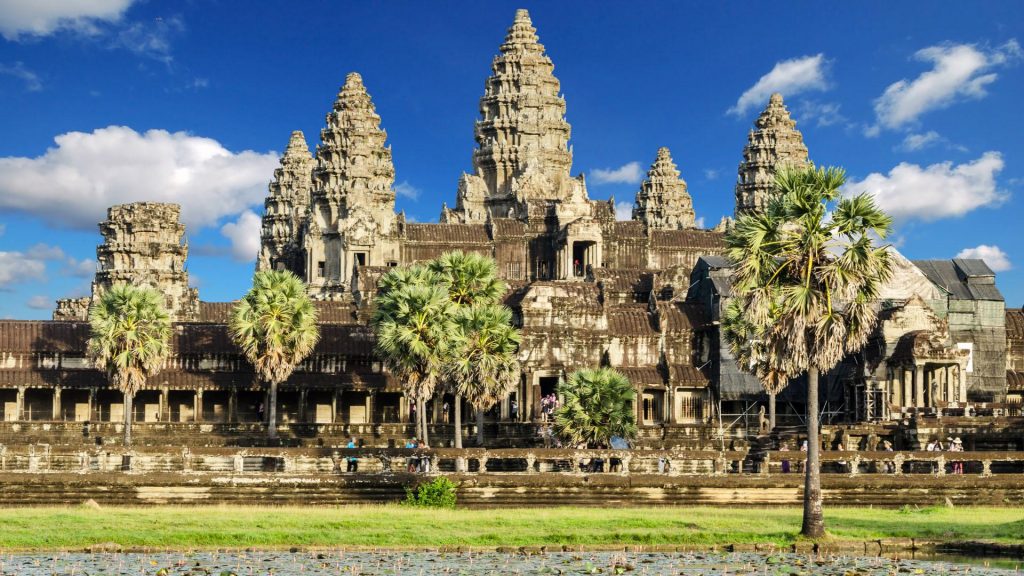 There are many bus companies that operate between Phnom Penh and Saigon. So, it is very easy to find a bus to go there. Minivans are available too but it is more worth it to travel with a group of friends using the minivan. The journey will take about 5 to 6 hours to travel. Thus, it is ideal to either travel early in the day or request to travel at night so at least, you can sleep in the bus.
1.

Phnom Penh

(2 days)
In the mind of many travelers, Siem Reap is face of Cambodia as it's where all the ancient ruins lie. However, Phnom Penh is the capital city of Cambodia and it has its own allures. It is still developing city but it is growing in popularity. As for now, 2 days are sufficient to explore the city and its major tourist sites.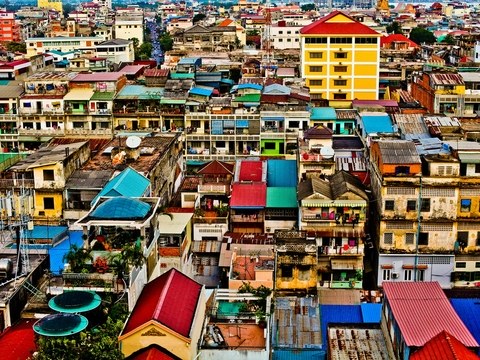 When it comes to hotels, almost every hotel, if not all, are welcome to LGBT travelers. Thus, you don't have to worry about judging eyes. In fact, there is a local gay friendly tour guide called Holiday Houseboys. The tour guides will take you around all the major sites in the city. This includes the Royal Palace, Central Market and Independence Monument. Obviously, you have the right to request certain locations that you really want to visit which include the non-touristy spots. However, the guide will not recommend illegal activities such gay prostitution as it is illegal in the country. In a way, you can definitely trust the guide.
If you prefer to travel on your own, it's an easy walk around the city with café and restaurants here and there for you to take a break from the blazing sun. For those who like dark tourism, you can consider the killing fields and the prison where the Khmer Rouge held poor Cambodians during Pol Pot's reign. It's a heart-breaking scene but very historical.
Come nightfall, there are many gay friendly establishments to consider such as the popular Space Hair Salon and Bar where many locals come to mingle, especially on the weekend. Vapor Restaurant Café is a good place to chill and have a cocktail. It is a perfect spot for dating as it is far away from the usual noisy pubs and bars. Other gay friendly places in Phnom Penh that you can consider dropping by include Toolbox, The Pride of Phnom Penh, Valentino's Bistro & Nightclub, Blue Chilli and many more.
2.

Siem Reap

(4 to 7 days)
Siem Reap is the epitome of the fantastical idea of role-playing as Tomb Raider or Indiana Jones. It is an ancient ruins playground with the iconic Angkor Wat in the center and many unique temple structures around the vicinity. If ancient wonders are not your cup of tea, then there is no point coming to this ancient city.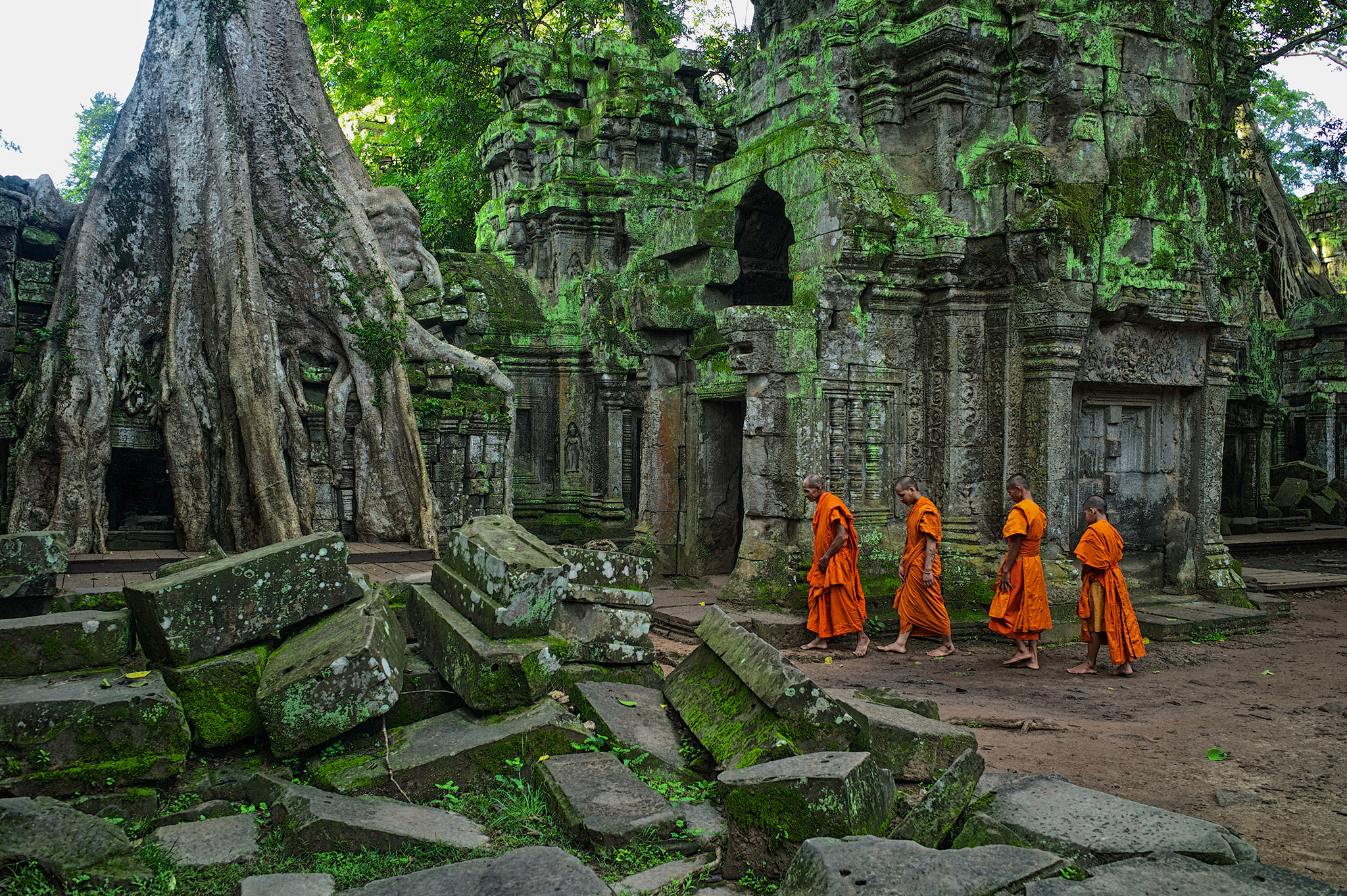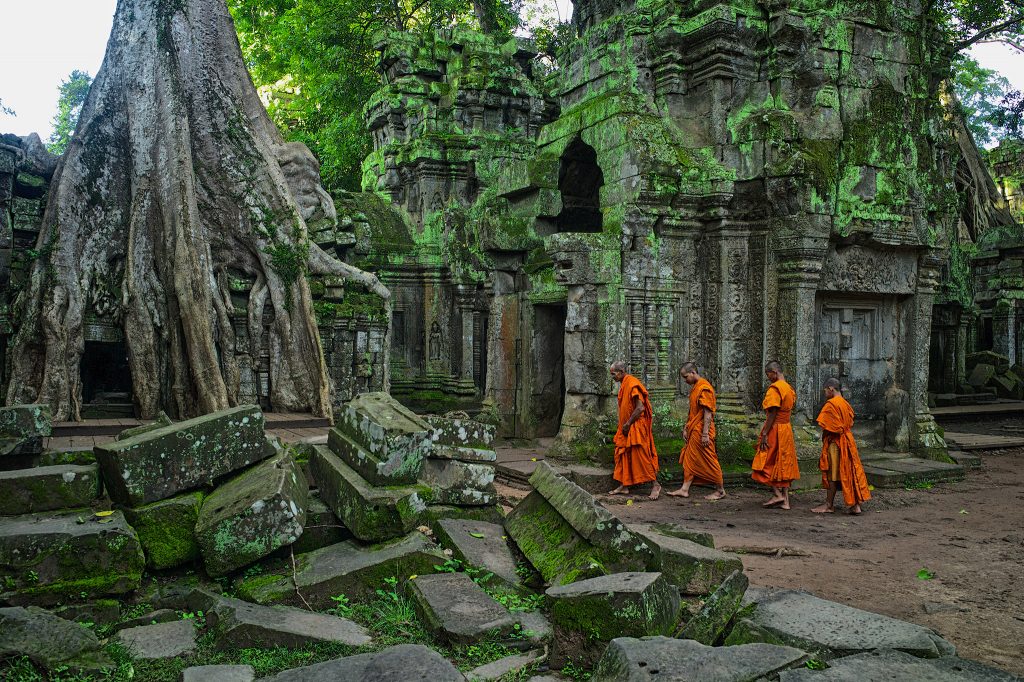 Once you settle your things down at any of the hotel in the city, you can rent a bike or a tuk-tuk to travel to the ancient sites. Along the way, you have to pay a fee to enter the compound which charges different fees depending on how many days you want to visit the sites. It ranges from 1 day; 3 days and 7 days. Most people will go for the 3 days entrance as it is impossible to admire all the architecture within one day only. If you are a history buff, then the 7 days ticket is more ideal for you.
Given its fame around the world, do expect hordes of tourists bombarding the sites day in and day out. Here you have to play some strategies. Angkor Wat is known as the photogenic spot for sunrise photos. Take this chance and visit other sites first. It is an iconic shot but many other structures have equally impressive vibe to you. A favorite of mine is Ta Prohm. This is the so-called Tomb Raider temple as Angeline Jolie came here before to film the famous Lara Croft movie. It has a romantic scenic vibe to it as archaeologists left the foliage to grow among the temple ruins. As such, you have a giant genus Tetrameles tree growing in the middle of the compound. It offers a more relaxed ambiance and you can truly see how nature intertwined with the architecture.
Towards west of Ta Prohm, another famous site is Bayon which lies in the middle of Angkor Thom. Bayon is another picture-perfect spot as it has many four-faced Buddha face statue carved from the limestone. It has many hidden spots to explore and most tourists would still be hogging Angkor Wat during this time. Within Angkor Thom, there are many other ancient ruins to explore as well.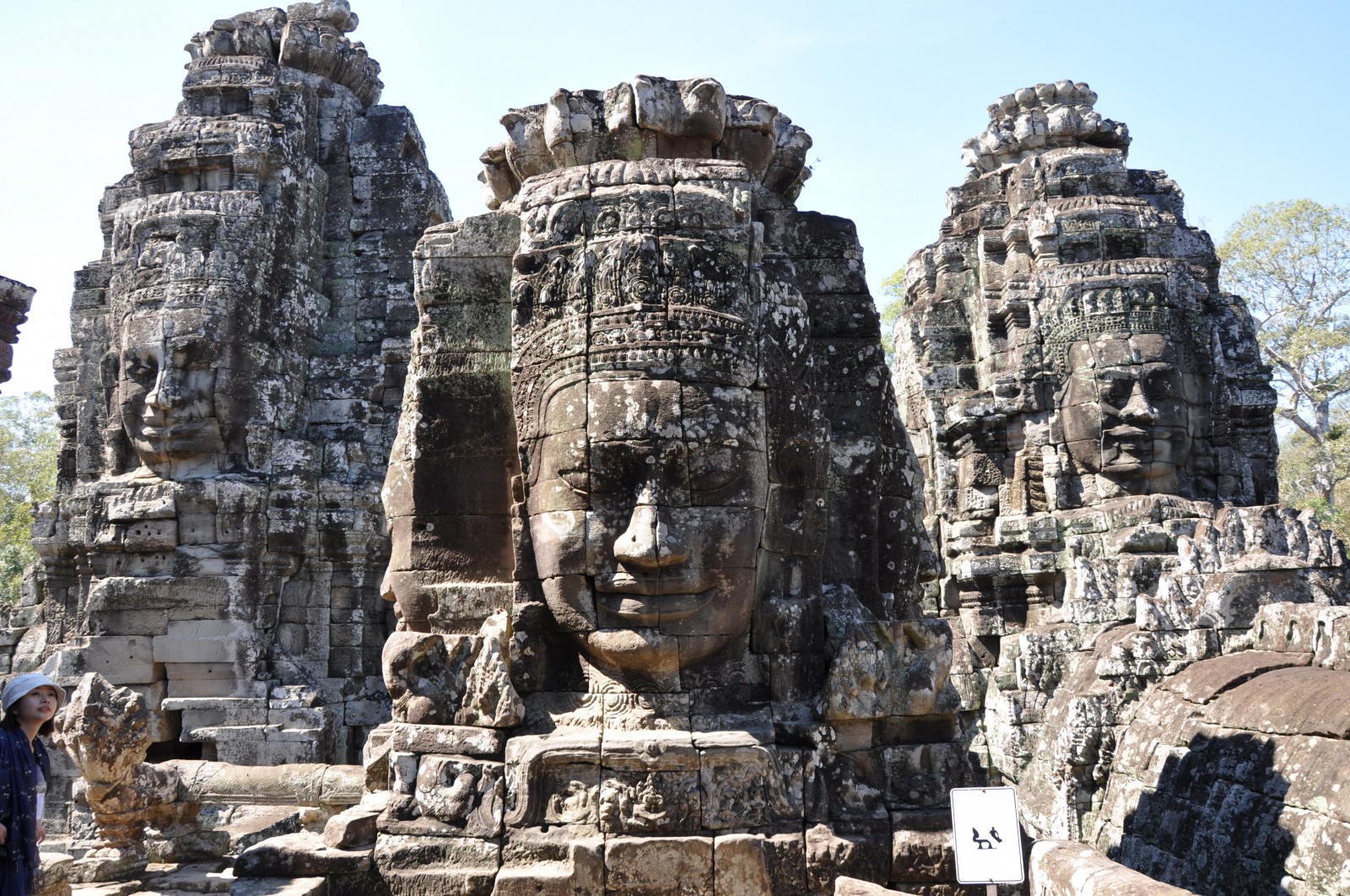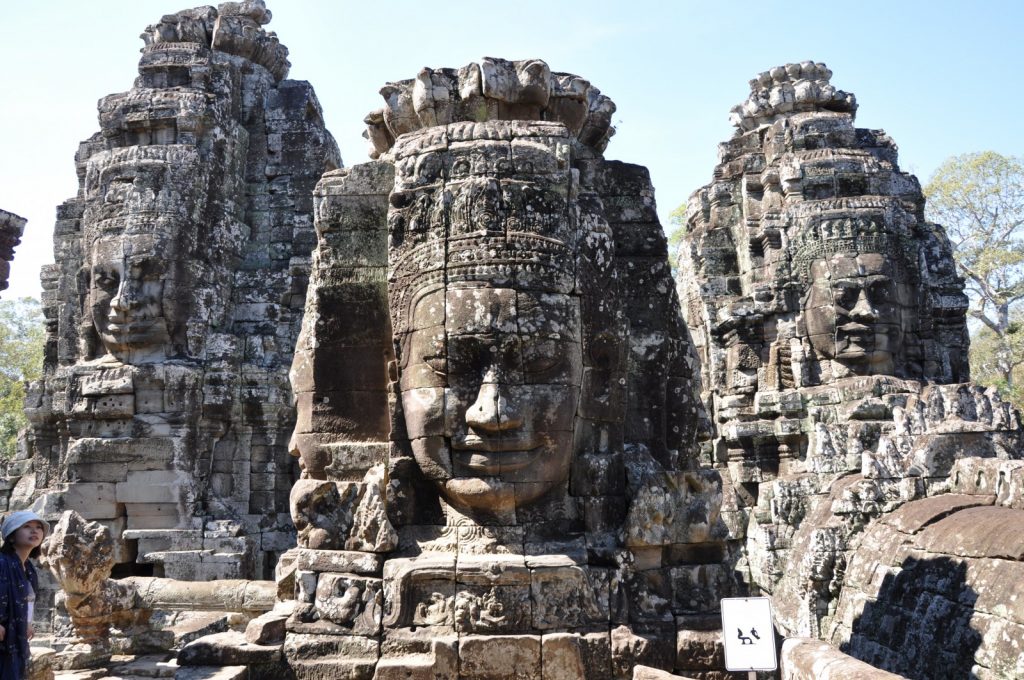 Finally, my personal advice to visit Angkor Wat would be in the afternoon. During this time, most tourists, especially those following tours, would have headed back to their hotel to rest or they would have gone for lunch. Do note that the sun during this moment can be very intense but you have the whole temple compound for yourselves to explore. Give or take.
As to where one can go at night to meet new people, that would be Pub Street. It is the party street of Siem Reap where beers and cocktails are served alongside good company of many people. Again, it should be noted that there are some shady characters around. Do not let yourself get scammed while you are there.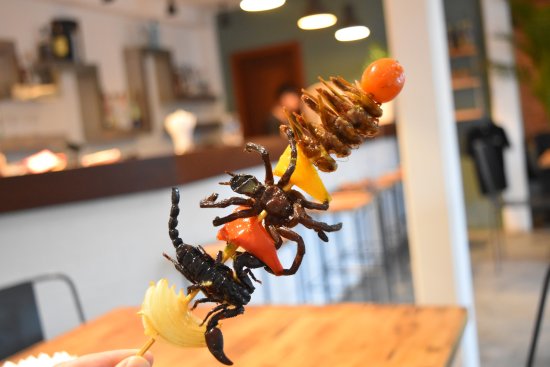 If you prefer something exotic instead, a good recommendation of weird dishes to try out would be at Bug Tapas. The owner is an expat who moved to Siem Reap to start a new life. Based on the name of the menu, as you can guess, the menu is full of bugs and creepy crawlies. No worries, they are all safe to consume but rather, the question you should be asking yourself is whether you have the guts to try it. The menu comprises of tarantula, water bug, scorpions, silkworm cocoons and many more.
III.

Gay Guide to Thailand
In comparison to Cambodia and Vietnam, Thailand has a huge landmass where it ranges from the mountainous towns in the north to the islander lifestyle in the south. It is impossible to travel the entire country within a year, let alone within a month. As a LGBT traveler, it should be known that Thailand is one of the most gay-friendly countries in Asia. Indeed, there are still some families with conservative views in the country but travelers should be greeted with nothing but the warmest welcome. You can even hold hands with your partner and no one will bat an eye. Nevertheless, this article will highlight the key areas novice backpackers should go when visiting the country.
1.

Chiang Mai

(Optional)
At the edge of the northern border between Thailand and Myanmar, the main tourist town for any traveler is Chiang Mai. It is a cultural center rich in history and religious buildings. It is also one of the Thai towns closest to the Burmese border where one can enter Myanmar.
The only trouble with Chiang Mai is that it is so far north from Siem Reap. Ideally, if you want to visit every major spot in Thailand, you should either start from the north or the south. Now, the closest place one can go to is the northern city of Chiang Mai but it requires approximately 14 hours worth of travel on the road. There are of course many flights going there from Siem Reap airport but flights may be a tad pricey.
It is understandable that if you want to skip Chiang Mai entirely and go straight to Bangkok where it is some much nearer to Siem Reap.
However, if you do decide to give Chiang Mai a try, you will be welcomed with green scenery and picturesque backdrop. It is not as hectic as Bangkok and there is a layback attitude in the town. For the LGBT scene, you have GINGER & Kafe @ The House to try out. It's a restaurant owned by a gay man and he serves delicious Asian fusion food. Just next door, the same owner has a bistro for those who want to have a drink. Other places worth mentioning include See Men Pub and Sound Up (Mandalay Bar).
2.

Bangkok

(4 to 6 days)
If you are not keen on Chiang Mai, you can head straight to the capital city of Thailand. Bangkok is nicknamed as the City of Angels as the Thais believe that the city was blessed by divine beings. This city has so many things to do, which include sightseeing and partying. In a way, it is also the hub for gay scene.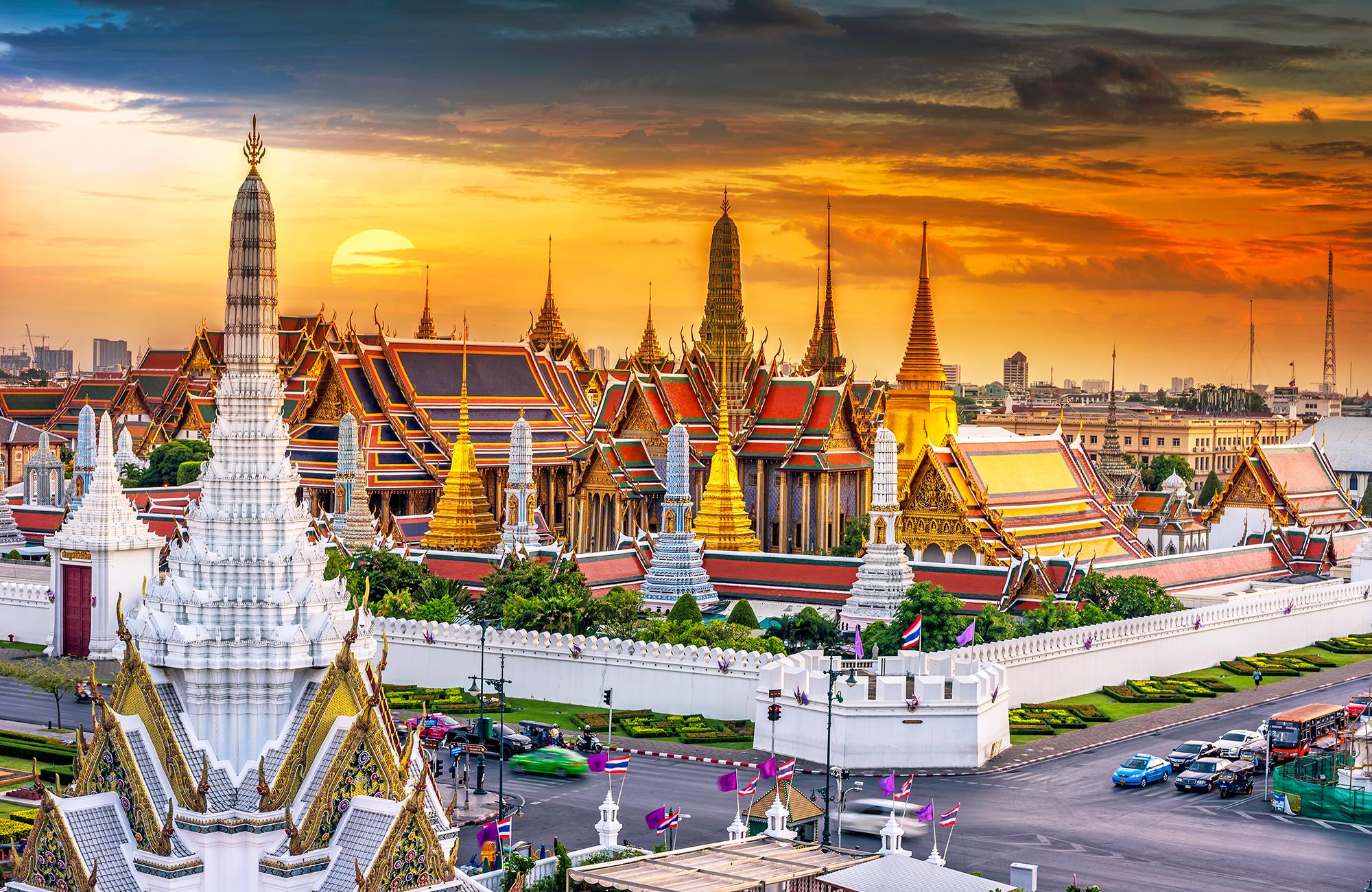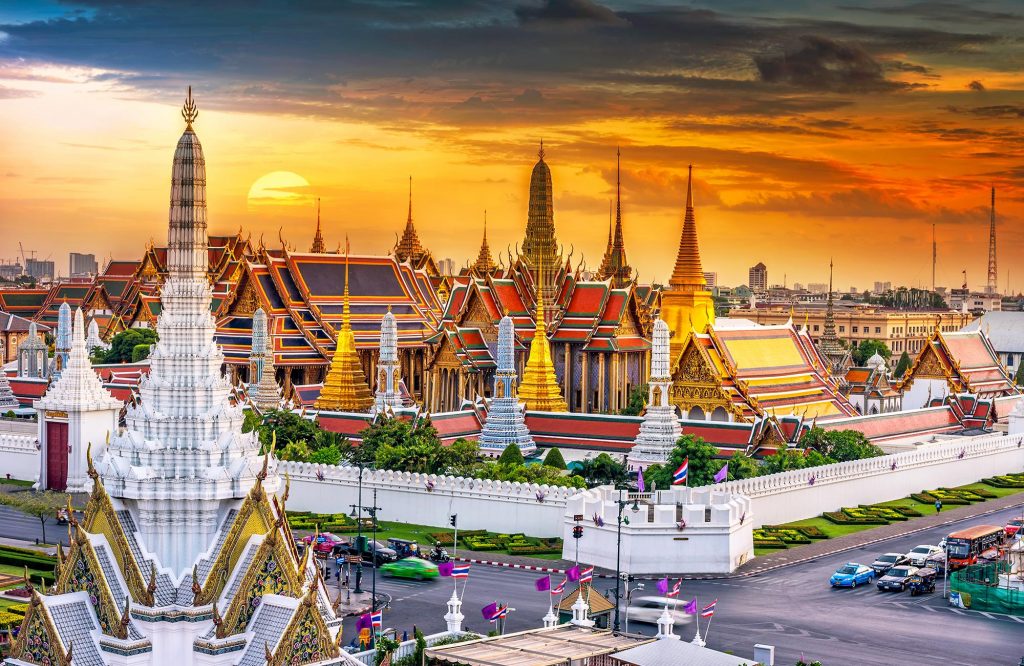 Firstly, you must understand that Bangkok is divided into 50 districts but most of the happening places fall around the Chao Phraya River. It is where the ancient king's palace and other royalty buildings are structured on as well as where the night life is most happening. Thus, it is ideal to find a place to stay where it is easy to access all these happening spots.
By the Chao Phraya River, under Bang Rak district, look for the area called Silom. The Silom area is connected to other districts with Bangkok's public transportation such as the sky train and metro stations. That means it is easier for you to explore the tourist spots as well as the LGBT hang out spots. The ideal lodging you should consider is Nantra Silom. While it is not exclusively a gay hotel, it is cheaper and the Skytrain Station is just within 10 minutes walk. It is a budget hotel so do not expect any luxury but it is very convenient and decent enough to sleep in for a few days. As a traveller, you shouldn't spend too much time in your room anyway.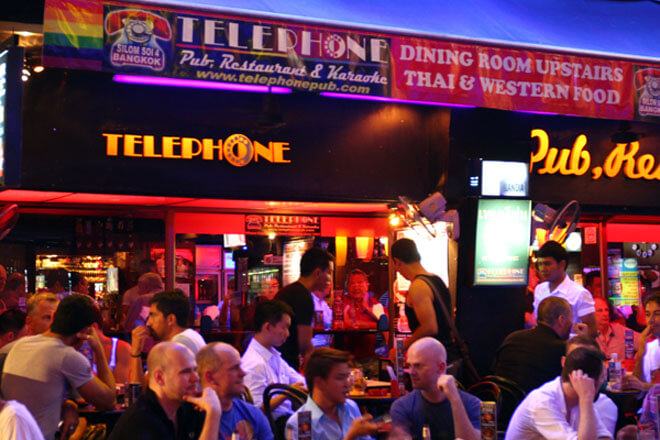 Nearby the hotel and within Silom sub-district, there are many gay bars and clubs to satisfy your inner-gayness. There are The Stranger Bar and Telephone Pub for drinking and DJ Station for showing off your dance moves. All these places usually become busier after 10pm. If you want to chat with someone, then it would be better to arrive early and boogie down as the crowds start pouring in. If you want a more relaxing moment, Babylon Sauna is the best place to go for sauna, jacuzzi and swimming. Many gay travelers come here as well when they are visiting Bangkok so you can build up your network.
Moving on to the more cultural stuff, the must-go places are The Grand Palace, Wat Arun and Wat Pho. All of them lie alongside the Chao Phraya River. Khaosan Road is known for its night market and you can try out insects too which is a popular exotic dish for foreigners. After a long day of walking around, you can chill at some of Bangkok famous malls such Siam Paragon and Terminal 21.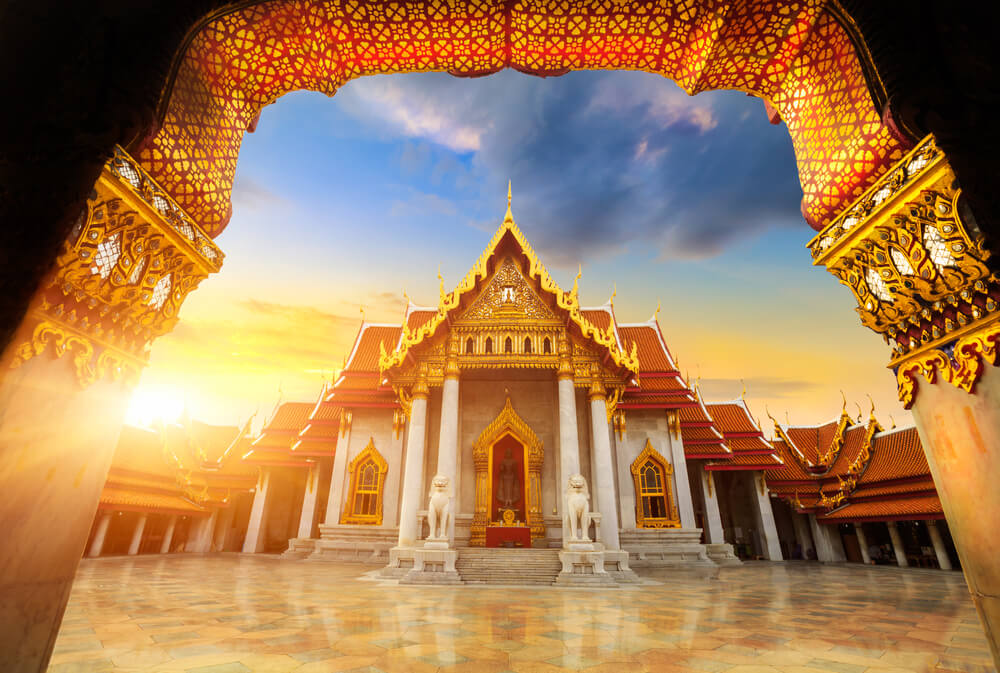 If you are a little sick of the urban scene, you can have a quick trip to Pattaya where you can chill by the beach. It is about 3 hours drive from the city and there are many tour packages to go there.
3.

Krabi and/or Phuket

(3 to 5 days)
The final destination in your Thailand trip is either Krabi or Phuket or maybe even both. These two locations are further in the south, nearer to the Malaysia Peninsula. That said, it doesn't mean you should not stop along the way there. Towns like Hua Hin is a good place to stop by as well but for the sake of this article, I will look into the two beach locations.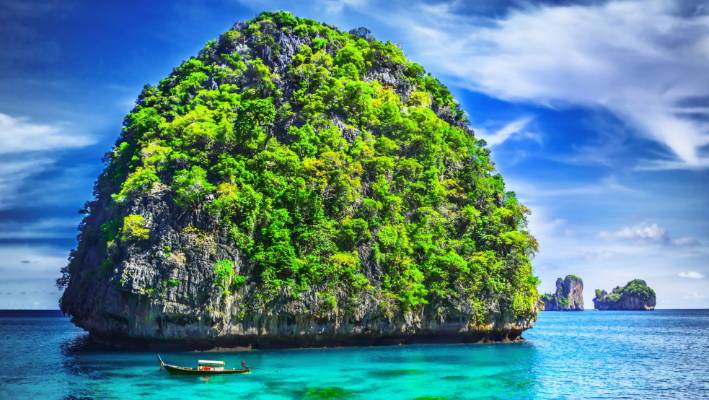 First thing first, both locations are surrounded by pristine water with a beautiful open ocean view. Despite that, Krabi and Phuket are huge. To travel from one end of the place to the other takes about an hour or more. Nonetheless, you should just concentrate one area where it is the most happening.
From both Krabi and Phuket, the first place everyone goes to is Phi-Phi Island. It is beautiful and you get to take in the view while sailing on the sea. At the jetty of both places, there are packages that arrange tours to the island where you can chill and relax the entire day after such a long journey across Indochina. You are more than welcome to dive at designated areas or hire a private boat to explore the nearby smaller islands.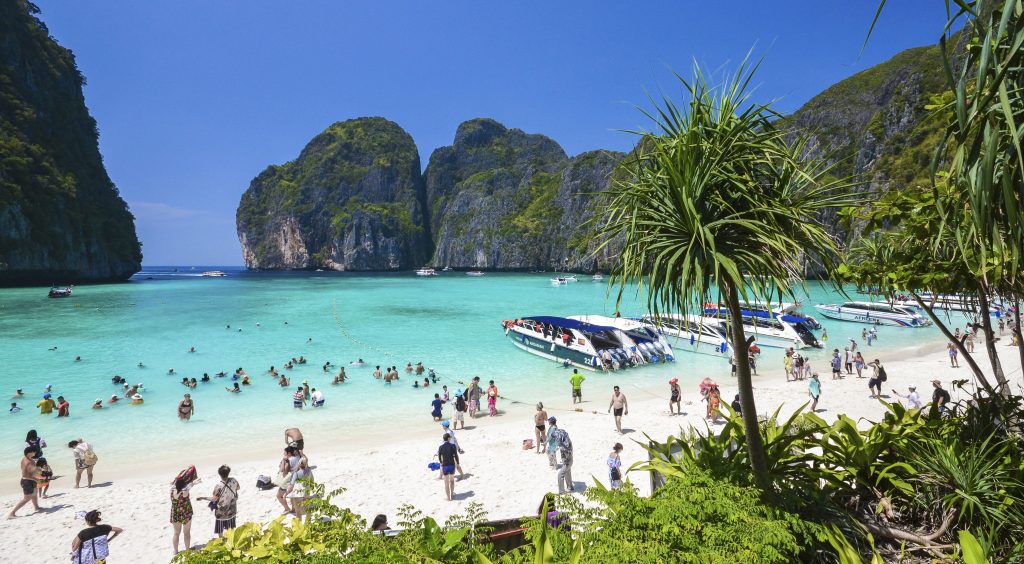 As for the gay scene, Krabi does not really have a popular gay spot to hang out at but there are some across the land. For Phuket, the main place to go to would be Patong Beach. Nearby the beach, there are many gay friendly places for one to hang out at. From KUDO Beach Club to Honeymoon by Kenya to Blue Dolphin Men's Massage.
For the final few days of your adventure in Indochina, don't forget to just soak your feet by the beach and watch the sunsets. Just take in the moment and enjoy it.
Pride Drives – Saigon Gay Tours